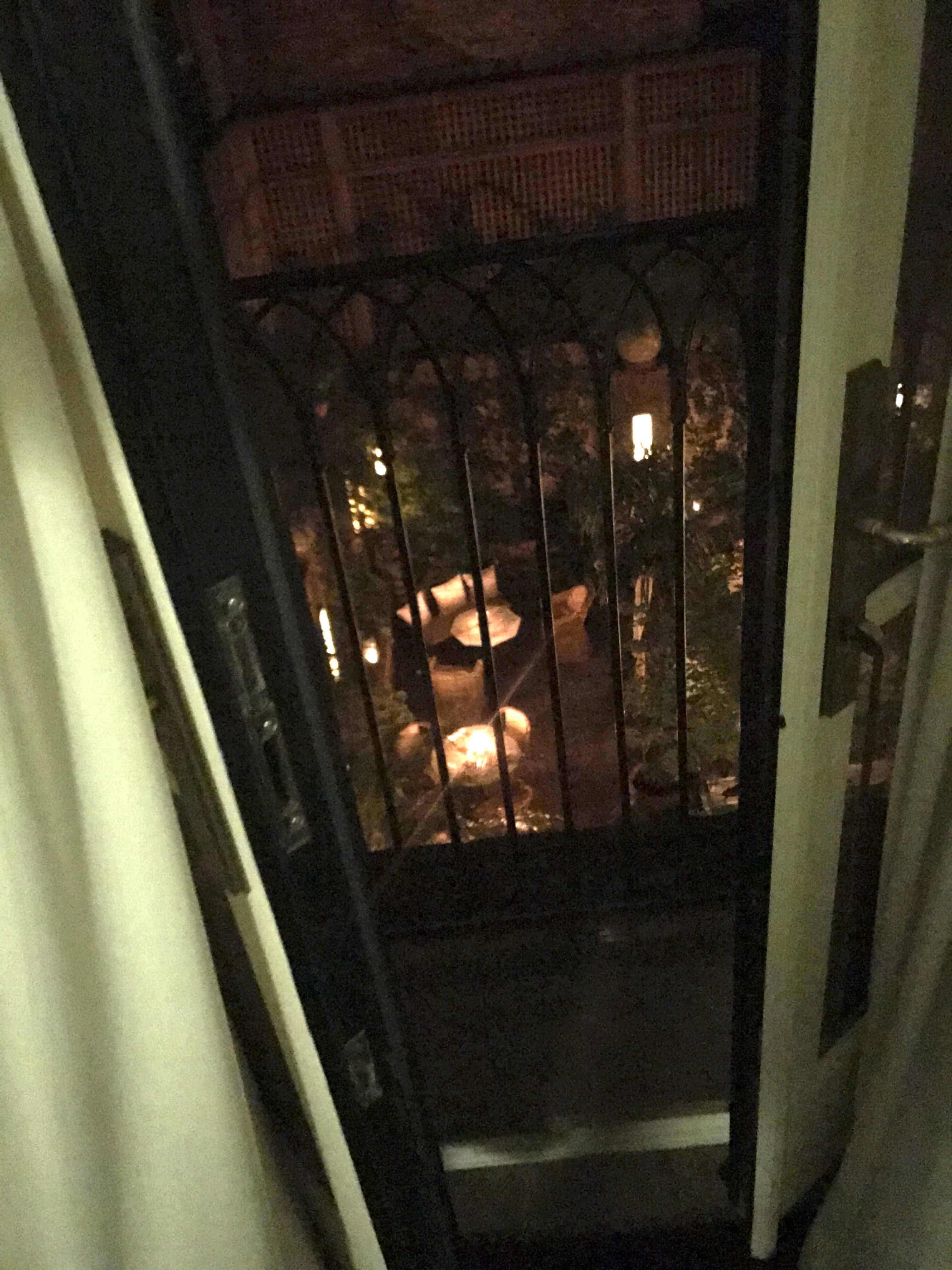 the very first time I got a flash of what I will call inner piece was when I was about 14. I have no idea what happened. it was my freshman year in high school, I was laying in bed with my window open, and something hit me: I felt…good. great. heavenly. not excited. not full of energy. just…good. I will never forget that moment, because my baseline feeling was otherwise completely opposite, all of the time. I will never forget that day. more than anything about that day, back then and in retrospect, I was…bewildered. it was such a new yet somehow recognized feeling.
the next time I got that feeling was less out of the blue, there did seem to be an explanation for it (my life had changed that day) but it was also equally unforgettable. it was my very first day of college in a new city. I was only a few hours away from the area in which I spent my formative years. but everything around me was new (at least in this lifetime). after I was all checked in, maybe in my dorm room for half an hour and settled, I sat on my bed in a semi-upright posture. all of a sudden, I felt that feeling again from a few years prior…good. I don't/didn't know how else to describe it other than "good". it was indeed a foreign feeling. as I felt this, it almost felt scary as my survival adrenaline was formed with the opposite feeling – fight or flight. so I sat in that small dorm bed, nearly upright, and as I did so, it felt like weights were dropping off of my body and legs. it felt — like my patients describe before during or after we work together. I fell asleep, nearly upright, and I can recall the tremendous silence and inner peace I felt. "this…must be what normal people feel", I recall thinking. I fell asleep for maybe an hour, tops. when I woke up, I heard the sounds of kids my age playing games in the courtyard. yeah, no one was on their phones and there was no social media. it was like being actual human. when I woke, I remember thinking "oh my gosh, that is what inner peace feels like". it did not last, but the time I had with that feeling was…everything.
it would be another few years before that feeling came back again. I was maybe 24, 25 tops. I was out with my friend whom I considered super spiritually advanced and way more together than I was. he was about 13 years older than I, had a fabulous apartment down on wall street, and we had initially met in another city during the most very difficult time of my life. he was always like this older sage to me. we never dated. he treated me like such a fantastic lady, inviting me to meaningful dinners and to stay at his place whenever I made plans with him in the city. I would wake up in the spare bedroom to use the bathroom in the middle of the night (5am), and he would be doing kundalini yoga in his bedroom after just a few hours sleep and several drinks. he was the spiritual dream, in my mind! something unobtainable for my own experience. he told me it was simple, but I could never hear him. anyhow, we had been out one night. and…it happened again. all of the sudden, the room got quiet (we were in a very crowded nightclub). and it hit me. my heart felt warm and fuzzy. I had never done any drug except THC, and I certainly had nothing in my system that evening except some vodka. I was afraid that someone had roofied me, because I felt so good. the feeling was so good to me, that it scared me. again, this was not some excitement or energy boost — it was more like a high that came from my inner core. I don't know how else to explain it. it scared me because it violated what my ego adrenaline was still running on at that point — fear. fight or flight. but I could not escape the power of this feeling. I let it flow up my body and it was too powerful to resist. after about 10 minutes, it was gone. I had a fun time with my friend and went to sleep after.
a couple of years after the 3rd experience above, I was on a tv set. I realized what that feeling was, because I was neck-deep in "spiritual" and metaphysical study. it was my kundalini rising. but more important, it was profound inner peace. it freaked me out to feel it, and it freaked me out that it freaked me out to feel it. during this job on the tv set, I texted my friend from the nightclub experience whom I had once viewed as a guru (simply by the way he lived — now, I see how much we have in common and it makes me smile). I asked him "do you know what kundalini energy is?" and he said "LOL! that's the energy I have been sharing with you since the day we met!". I was…wowed. of course! so, but, how would I ever hold onto this feeling? what was it, actually?
I continued on my path, of forgoing "opportunities" like tv and film contracts and finance job offers that would give me a "safe" and "predictable" life. they also forwent me, believe me. I would have taken them, if my direction in those spaces were stronger — and they would have taken me. but it was not. spirit wanted me elsewhere. so I said no and those close to me thought I was crazy. I never intended to pursue the good feeling from the 3 examples above, as I just found them to be flukes. I did not fully understand what that was. but, I did understand that I had to follow my higher self and not my brain. and, I DID know the difference. I ALWAYS knew the difference.
as I followed my truth and my path expanded (through much hardship), something happened again. it was right around the time that I said "yes" to the Universe to come out of the closet and do this work publicly (something I so, so feared and did not want to talk about to anyone, not even my closest friends). but my higher self said yes before my human self, and so my body felt the resonance of that "yes". I was on a train one year. going back to the town I spent 4-18 years old in. my body began to feel…high. I knew what "high" felt like only because I had taken pain killers at one point for surgery. again, it was not an excitement and there was no emotional or psychological association with anything. rather, it felt again like it emanated from my core and my body was buzzing. "oh my gosh it's happening again" I thought. this time, it was clear what it was. I knew my path, and I knew my internal work. "this is what inner peace is", I thought. I could have nearly cried. I felt it for a whole hour, the entire train ride north. and then, after that day, it began to happen at random times. at a coffee shop, at night when I was praying, when I was with someone whose higher self was really connected to mine, or even in the middle of a very crowded and chaotic scene in new york city. it kept happening at randomized times and durations. this was inner peace. I could not even believe it. it was everything I hoped for as a little girl, everything I knew MUST exist in my outer world, but nothing I had experience with. this felt like heaven. heaven on earth.
one of the reasons that I was never experimental with drugs in my youth must have been an inner knowing that I would get there naturally. there is nothing wrong with experimenting. it's just that for me, with my path, I like to experience concrete shifts sober first. it hit me that there was nothing from outside of me that could create this peace.
and so it began my mission to take all of the adrenaline that I was conscious of my entire life, and break it up with inner peace. I wasn't sure of how to activate it at will, so I decided to begin trying. it became especially helpful during my absolutely most difficult times (right before and during when I came out of the closet with my work publicly). I was shedding a lot of abuse, ptsd, thought patterns, neurological wiring and so on, that had NOTHING to do with me — but was rather conduited THROUGH me. I wanted out and away from that which was never inherently mine, yet I still had not made the association that what was "mine" was indeed, so very different from my experiences with the world.
anyhow, with my overactive mind in tow, I decided that I MUST experience inner peace again, but this time at will. I felt like my life depended upon it. I had no idea how to start but what I recognized, was the fact that I was addicted to fight or flight. plain and simple. my body and mind knew no other way. so, what would it be like to not feel like that? well for starters, it would be a huge RISK. so the first thing that I had to do was RISK the fact that I may be hurt, if I indeed induced peace that did not come at me without my will or control. so I sat in this coffee shop I used to go to and I thought, "what would it be like if I risked feeling peace — no worry, no nothing, just joy — for 30 seconds?". it sounds like it should be easy, maybe. but it wasn't. I actually had to risk part of my life! our lives are built upon whatever keeps us safe. what kept me safe was being on guard and ready to run and hide at any time. so, oh man, this was a risk. of course my cognitive mind knew there was no physical threat or risk involved, but my adrenaline knew otherwise. I had to negotiate the two. so I sat with my coffee and I jumped off the cliff. I risked joy, an inner peace "high" during which I thought of nothing but how good I could possibly feel, for half a minute. I did it. it felt like the biggest risk ever! but I would be back. I would do it again. and again.
and so the next day I went back and did it again. and repeat. I began to establish inner peace. I knew what it meant to undergo a deliberate and active ego death (please refer to my eBooklet on ego death for more).
and now on a daily basis, this has become my attainable norm. it is not always unconscious inner peace that I experience, but it is more common than it is not common for me. absolutely the opposite to my early life. I have had to practice not looking over my shoulder, shuddering at noises or people's facial expressions, or the possibility that something scary will happen to me. I risk that, every day. I risk the adrenaline that my body is still ridding itself of. and now I do an amazing job at it. and the work has taken time but is so worth it.
we all face training — from our early environment, to societal conditioning and so forth — every second of the day as it relates to our ego getting fed in order to prepare and survive. but we must buck that conditioning with what we need, not what has kept us in order. I suggest always to each and every one of you to consider "risking" your inner peace for less than one minute per day. this is different from meditation. this is less than a minute during which your fear goes out the window. I know what a risk that is. it is a time during which you only feel the life that comprises your body and being, or that of your children or pets. it is source energy. pure and loving in form. do not get down on yourself if it feels too difficult — so many of us are conditioned to literally stay alive on opposite feelings. but this is reversible with focus.
inner peace and the awareness of the possibility of such (despite natural daily challenges since I don't live in the middle of a remote island in Thailand) is now constant. since yesterday is a memory and tomorrow has not happened (yet…it is ALL happening at once! sorry to freak you out with the contradictions — please see some Neil DeGrasse Tyson stuff on timelines for more on this!), the only reality we have is this very moment. seize it when you don't know what inner peace is and want to find out.
this is what I used to do when I didn't know what inner peace was (until it became my constant). p.s.: completely blissed out with inner peace as I write this.