candid and untouched, unfiltered Apple phone photo by Anita Saini
amazing shirt (yes the lime is part of it!) by Samantha Pleet
so first I will comment on my past decisions to completely avoid press, and take very few opportunities or offers for such regarding my work. I waited a number of years before I let anyone talk about my work, because at the time (and even now, despite the sudden and overnight and totally rampant TREND of "healing" and "psychic" in the last two years) it was considered "crazy". in fact, I didn't know what to call my work, so when I first started consulting and helping people I just called it "reiki" to make things easy. the truth was and is, reiki doesn't even touch upon what I do. to read about what it is that I actually do, look through the testimonials listed on the testimonial page and read through this blog. there aren't many words to encapsulate what has occurred, and what continues to occur, when I pour my heart, experience, intuition and expertise into an individual, their family, and their business. so, it was my choice to first build my arsenal of irrefutable and empirical evidence surrounding my work with fertility (nearly one dozen babies were born last year in 2017, some to women who were told they medically could not conceive), medical mysteries solved (countless cases have been solved, and countless cases are still prepping to be told – let's reserve the good stuff for later though), and problems that many people had not been able to solve before our work together. since I fully understand the "woo woo" and "crazy" aspects of people who claim to be healers and psychics (just read my blog to hear my perspective), I braced myself for the feedback or backlash that I feared I would receive early on. thankfully, I didn't receive any. I kept my head down, worked upwards of 100+ hours per week, and dedicated the past decade of my life to helping people solve problems they had not been able to otherwise solve. I loved and love this work. it is my heart. and it wasn't something that I was going to allow to be butchered, skewed, or misinterpreted early on by risking press. and to be fair, I totally understand why the press often laughs at all things unseen. I have been that person myself a number of times, too.
last year, someone reached out and wrote a beautiful article about me in Forbes. it was really great because Forbes was actually at the top of my list of outlets I was willing and excited to speak with. the writer is an amazing person who didn't know me from Adam prior, and she let me cold read her and her life before she took my interview. the whole experience, start to finish, was a pleasure. to date, it is the most accurate and objective piece written about me and I am so grateful for it. because generally, "the news" doesn't want to hear good things…in fact I think we are allergic to good news…we like the controversy…I will admit that once upon a few times, late at night when I can't sleep, I check a certain person's twitter account to entertain myself. I spent the last couple of years subsequently dodging press, mostly because I did not feel confident with the "team" I had around me. it wasn't a stable team and I didn't feel protected. in addition, I started to learn that many people's allergy to the notion of what someone like me does, which is true and authentic work, was a real thing. for example last Summer I got a call from a very famous person's publicist. she asked me if I could come to her event where the Conde Nast editors would be for the fashion magazines. they wanted a "healer" who could bring "crystals" and give "readings" to editors and friends of the celebrity. I very much appreciated the reach-out, I adore the celebrity they reached out for, and I also let her "people" know how I work — specifically that I would not be able to "play the game", to be fluffy or fake, and that if someone asked me a question, I would tell them the truth. that, of course, was a deal-breaker. she told me point-blank over the phone and still in my notebook from that conversation "ok to be honest with you, what we really want is a fake healer to just bring crystals and tell people good things". and mostly, this is what sells – fluff. and that's cool…it's just, that's not what I am/do. fast-forward, and the "fake healer" they invited to that event now has her whole own website. with almost all of the same services I offer – how curious! we shall see how quickly "energy work and kids" pops up on people's/healers radars, now that that is "out there", too.
as this year of 2018 started to close out, and I focused on two programs I started working on last year — The Energy Mavericks™ (TEM®) and Pediatric Energy® (PE™), I opened my mind to press. when my assistant caught a call from The New York Post, I listened to the voicemail and felt really good about the writer. I think she's a hard worker, smart, quirky, genuine, and does her job — she works for the Post. the energy was really great chatting with her, and I know there is a reason I took that call. she seemed to "get it" during our conversation. her piece, she said, was on kids and wellness. and, I think she's onto a good new topic! that said, I didn't and don't know of anyone else who practices or promotes energy work with children, so I was open to "breaking open a new subject". it's something no one else covered before — until my story leaked in the meantime (my article was delayed 3 weeks), and this one "broke" instead. kind of surprising someone scooped up the "scoop", but not really. all in all, I felt pleasant about the way the writer and editor portrayed the healers in this particular article…mostly as credible, good people. and, the photos were nice…
we (The New York Post and I) scheduled a photo shoot for November 4th, and I gathered some kids I had never worked on before at a center I thought could also benefit from the press as a tie-in — they have a children's program. not energy work or reiki, but they support kids and I felt that they supported me too. the photographer, noted in my upcoming article link, was a fun and nice guy. I really enjoyed the afternoon with him! plus, the photos he showed me on his camera at the shoot were GREAT! I was sure that I would be happy with whatever photo they chose, and I was excited for the article (in whatever form it came). then came the article…
so, it's The New York Post. I'll start there, because everyone knows that the Post is a fun and often salacious news outlet. it's the outlet that we all go to for entertainment, a laugh, and a fun way to pass part of our Sunday. a patient of mine actually sent me my article link — her husband is a religious Post reader! I didn't expect a serious article to come for me, and because the team over there was so great, I knew that whatever it was would be positive. that said, allow me to make a few very important edits and corrections to the article: my lawyer is trademarking my program name Pediatric Energy® (update: Pediatric Energy® is a registered federal trademark as of October 2019), not me; I have an entire legal team I have had for years, because I take my work seriously. next, I can't remember the last time I used the word "monster"; the quote in there, about me calling children energy monsters, is not mine. what I have said, however, is that children nowadays are like much newer modeled cars who often need different fuel than we are accustomed to — with dispositions and diagnoses like autism and the like, for which I have spent countless hours consulting on with parents of children who desperately want to understand their child. I have a great sensitivity for children having opportunities to see themselves as autonomous, loving beings, because it is not an opportunity I ever had as a child. finally, let's talk about the photo in the article…it's not my face. I guess I should consider it a compliment that my face and eyes, specifically, would be retouched to actually make me look worse. again, as many of my friends who saw the article and barely recognized me said, "Elaine, it's THE POST!". ha. ok. I get it. but…I also don't know anyone on this planet who is ok with anything less than accurate representation of themselves. plus, in the context of this article (I don't mind that they played devil's advocate for both perspectives on healing and wellness for kids…I actually like the spunk of the writer and the outlet in general), it's important that I don't look like a total creep. thankfully I remembered to wear my fake wedding ring in the event I did look like a creep…I think it takes away some potential creepiness. and I do look like a creep – from the drawn-in circles under and around my eyes, to the change of my actual face shape along with lines on my neck.
see exhibits A through E, below
The New York Post's version of my face
The New York Post's version of my eyes – what happened to my cat eyelashes anyhow?
not sure what is happening here either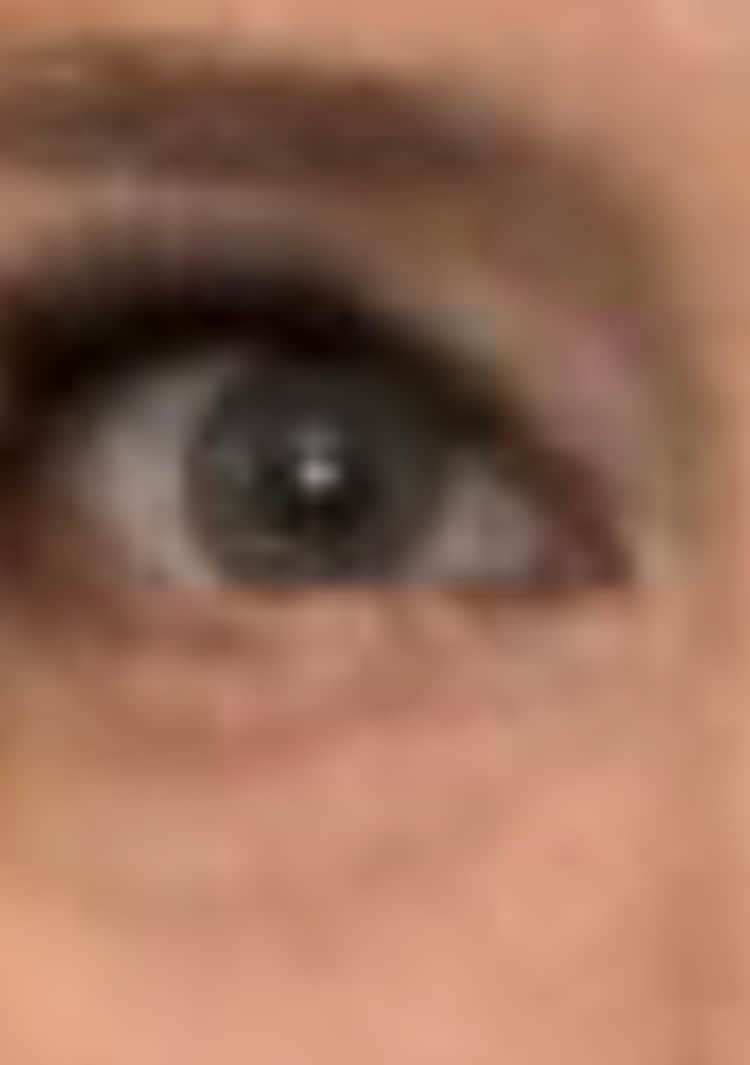 the actual version of my face, taken an hour later at dinner
three hours later, taken at Ludlow House as we were getting kicked out for taking photos and loitering after hours
since I'm an actual human being, my image is important to me. for the record, I don't believe in the retouching of photos I have control over. unless the photographer insists, as it is, after all, their art. why wipe away what's real and true? oh, and if you have questions about what "work" I've done to my face, go ahead and read my post on aging and plastic surgery! you might be surprised at the truth. and of course I asked the Post for a retraction of my "quotes", and a swap for a normal photo. of course it's "policy" to not change anything. but for the sake of explaining how EASY it can be for ANY news outlet to impact our perception of a person, their business, and their entire life, I present this article and details in my own "post". anyone who knows me well actually contacted me in shock over the image of me, in general, that was portrayed in this article. and while I was initially disappointed — actually, I believe I used the word "devastated" as I emailed the writer — I believe only good things can come from this article. and, I appreciate very much the awareness that it is bringing to my PE™ program!
so, thank you to Lauren Steussy and The New York Post and your editor, for giving me a little jolt before the end of the year. I would love to work with you again, I'll probably just request approval on quotes and photos!
here is the article link I speak of, and feel free to check out my Pediatric Energy® initiative located in the services section of my Healing Elaine® website: https://nypost.com/2018/11/30/inside-the-pricy-controversial-world-of-kiddie-wellness/