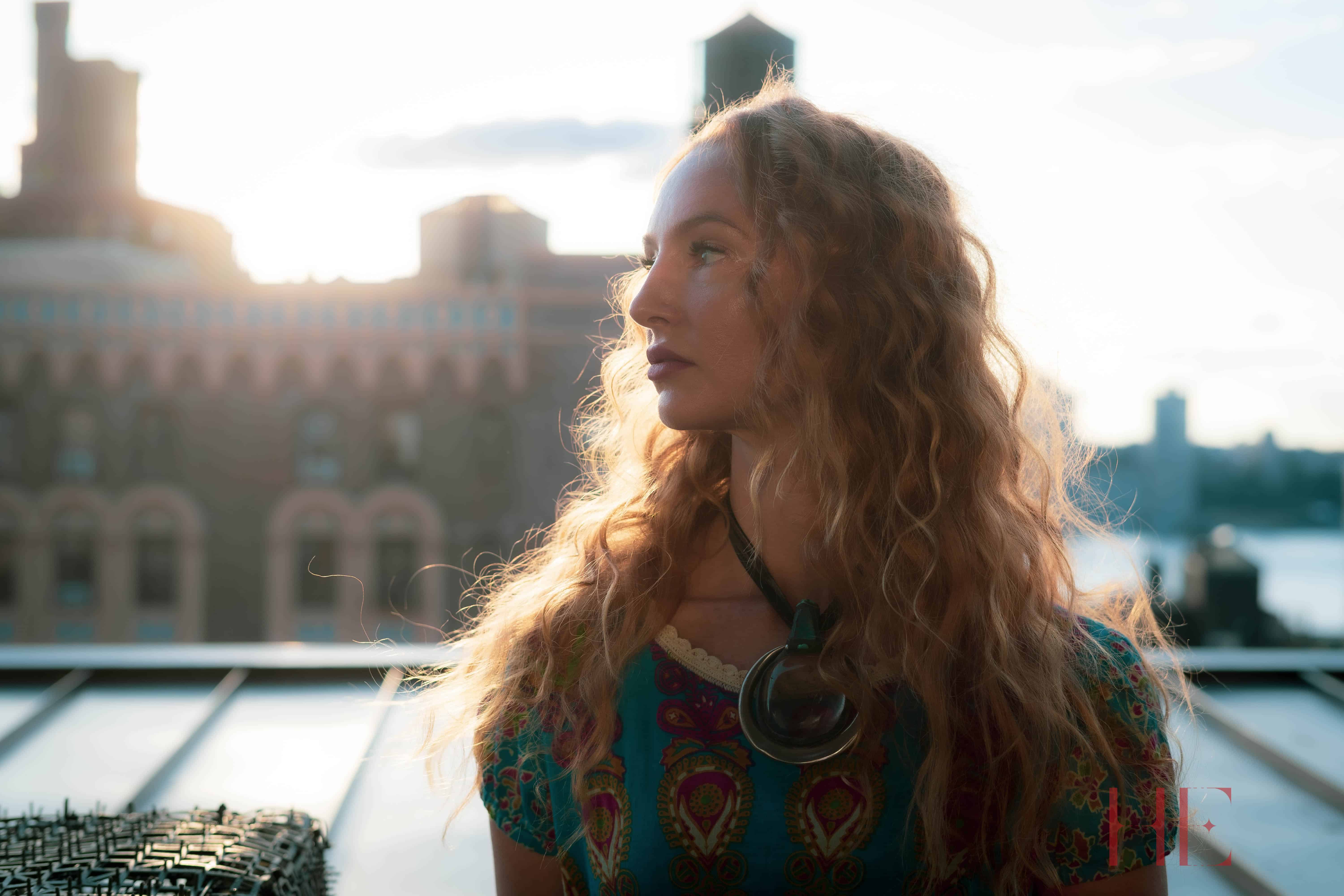 ©Healing Elaine®, photo by Anita Saini
"you're scattered"; "you need to choose one vocation"; "pick a focus"…I used to hear these things ALL OF THE TIME. in my 20s. except, I knew deep within me something that THEY did not know: I was building my multi-faceted future and the road to MY destiny, by…being multi-faceted and living MY life, MY way. this is how it should be. we should each find out, who WE are, not who THEY tell us to be.
when I was 18 months, I climbed up a ladder on the side of my house and launched myself over the top onto the roof. I also used to hurl myself over my crib bars to escape it. so, perhaps it's in my soul's blood to venture out like a Maverick. but, you don't have to be a so-called Maverick or pioneer-type to understand that EVERYTHING you are doing and going through now is preparing you for where you want (when I say want, I speak to the AUTHENTIC you on a deep and honest psychological and spiritual level) to be.
I used to hit 2-4 year periods of "ceiling". meaning, I would focus on something for a period of time, get bored, and move on to the next thing. this never meant that I was abandoning those things/skills/experiences that I got "bored" with and moved on from — in fact, it was quite the opposite – I was filing my experiences and interests into a folder that would later be part of the book of my life. however, each time I was "done" with something (it might have been a job, or a relationship, or an interest), I would hear the riot act from many people around me. people who didn't understand. people who were jealous of my tenacity. people who both didn't understand AND were jealous. and so, in order to KEEP MOVING and hearing myself, I had to do one thing and one thing only: abandon ego. I had to be willing to be criticized, and stand in the face of it and feel the shame or guilt or whatever emotions came up each time I was told by people/society/whomever that I was "wrong", for being who I was/am.
when we abandon ego, we grow. ego holds us back. it wants to and, in fact, needs to so that we may "survive", according to the timelessness of the ego which doesn't know whether we are 9 years old or 40 years old because the ego doesn't work in a linear fashion. so each time I hit the skids, seemingly, and so to speak, in my life, I had to abandon ego. and it felt like a death each time. and each time I did it, I held true to knowing that all of my mini-deaths were part of a much larger focus –and that Rome wasn't built in a day. I knew that the flash-in-a-pan successes of "famous" or "successful" people were usually just that: flashes. I never desired something temporary, because I am not an addict in terms of short-term highs. I prefer the long, solid, unflappable highs — which really aren't highs at all. and in this way, in this part of my life, I am the opposite of an addict. the way I see it, life, the meaning of it, we are all destined to move as FAR AWAY from addict behavior (in any and all categories of our life!) as possible, and that is the meaning of life.
the fact is, we are all multi-faceted. when we are constricted, we suffer (notably, physically). when we don't listen to our own SELF, we suffer. we do this because we care what other people think. I wrote a whole article about that here. you should stop caring, as much as possible, about what other people have to say about YOUR life. and when you do, EVERYTHING that you have been doing — the "mistakes", the "disappointments" that you have "suffered" because you "did it wrong" — will reveal themselves to you to be the very THREAD of your soul, being woven to show you your bigger picture. for example…
my first job (I won't count babysitting from the time I was 10 on – ) at age 15 was working at an ice cream parlor. my second, of many hospitality jobs to come, was working as a hostess and waitress. I also worked at a snack bar flipping burgers. I did every kind of hospitality job there was, for many years, and as well in between "real" jobs. what is a real job anyway? going to a place to promote someone else's dream and make them successful? sure. ALL "jobs" are really equal — and most people don't know why they are doing them or who they are doing them for — unless they are doing the job for THEMSELVES. when you can do a job (ANY job) for yourself, you are living in integrity and actually able to GIVE something back to society. because you care about the xyz thing or job. but back to my first job. one might say, "what does hospitality have to do with anything else you have done? wasn't that a waste of time?" – to which I would say no. I would also say that working in corporate finance was not a waste of time. nor was selling overnight shipping to C-Suites (only). why were these things not a waste of time?: they factor into EVERYTHING that I do today. while working in hospitality, I had to get to know all different kinds of people and statuses and understand how they responded to their own needs. while working in a corporate environment in finance, I had to learn how part of the WORLD worked – I had big accounts poached from me by my actual BOSSES, and I saw the seedy, competitive, shrewd side of business and masculine energy at play…and I noted how many of these masculine energies were jealous of me because I had that similar masculine energy but I was wearing a skirt, or whatever. I had to learn while selling overnight shipping, exactly how to gage the intonation of a voice over the phone and what that meant when I had only 15 seconds to pitch a top executive (C-Suites only! company rule!) and get them to meet with me face-to-face. I had to understand why the ONLY person to EVER approach for anything in life, is the end decision maker. because no one else CARES. no one. all of these things that I learned, developed my understanding of people in the real world, not the "psychic" world. and I needed, very much, the tangible and intangible understandings that resided in my heart and mind to blend so that I could successfully understand and help other people. helping people has forever been my goal – desire – purpose.
the thing is, though, I doubted myself at times. I worried that maybe I WAS what I heard other people say to me, about me; maybe I was scattered, maybe I was lost, and maybe I was (gasp)…non-committal. but, I knew better deep inside and I would keep going anyhow. yet the doubt hurt and it slowed me down longer than I wish I had been slowed down. this article is in large part about that — the doubt that comes in, when you are just being who you are. and the thing is, it is healthy to doubt because we can re-assess where we are and how to do it better. but, it's not necessary to linger for longer than that healthy purpose. and people who live in fear, who are afraid to pursue their dreams, will make you doubt yourself. you can't listen. and, it can be hard to know what is doubt and what is reality…
the way to know the difference between doubt and reality is one way and I said it earlier: check your ego. who are you doing things for, and why? who are you appeasing? who are you trying to fit in for? if you can answer those questions, AND still go your own way, you can temporarily kill your ego and keep it in check. doubt is healthy and it washes over us as a feeling. reality — that we are actually doing something wrong — is when we are doing something strictly for outside praise, OR when we really DON'T feel like committing to anything and so we change jobs or interests at the drop of a hat in order to avoid ourselves. again, the key ingredient to know the difference is your ego death. if you are willing to go through the range of feelings that accompany an ego death and face them head on, it is likely that you are just in doubt. if you are not willing to go through the above, then there may be a reality to your doubt that has to do with your unconscious mind and patterns and not a healthy ego death. THAT notion is an entirely different article, BUT, if you are self-aware you can switch gears and then it is all the same anyhow…you are working toward everything that you were designed to be, once you surrender.
when I jumped away from corporate, I really had a death. I felt like a loser. I felt like I pissed away a 5-star education and my degrees. this is in part because I was "listening" to society by observing those around me. the people who just did their jobs, met their spouses at a happy hour, and moved to NJ to have kids. now, if I'm being really honest with myself, I WISH I could have that life. it would be so much more level (stable?) than the one my soul chose. there have been many, many times I have asked God to please let me just live a normal life. but I know what I'm made of – and I can't change how I am made. and so I watched many of my friends go the conventional path while I wondered if there was something wrong with me, and if I was royally messing up my life. and, simultaneously to all of that concern I had, ironically and paradoxically, I ALSO DID NOT CARE. because I could hear my soul. not caring does not take away doubt and worry, though. and, as I say over and over again, there is never EVER any "better" path for any one person. if your destiny is to have an amazing family and work at the DMW your entire life then THAT IS A LIFE AND A DESTINY and a VALUABLE ONE – because the only part of living that ever matters is our ALIGNMENT (when thoughts = feelings = words = actions!). but aligned people know that. I know folks who work very "menial" jobs and they are SO HAPPY. because they are in alignment, and they get it that there is no such thing as "more important purpose" as it relates to one person or the next and their "outer world success". all things are relative, and the only important thing is whether we are aligned or not. truly.
so in the above example, jumping from corporate, I felt like I was in no-man's land probably for about a month. looking back, that is a REALLY brief time as compared to other jumps and subsequent dark periods I had, when honoring my path. and, like the other times during which I "jumped", I wondered and worried if anything I had done in the past would relate to my future or if it was all just a waste. well: nothing was a waste.
in between film and tv jobs I worked MANY other jobs. and during that period of my life, the tv and film days, I also mistakenly thought "ok, this is it, this is my identity, I must focus ONLY on this now"…which was so not true. because we are never our job or our outer-world identity. and like all of the other times when I was either "forced" to jump, or my reality was ripped away from me, so then was my focused period of time on tv and film. and this is because I "HAD" to publicly set up Healing Elaine® and see that to fruition and "completion". again, I felt scared, that one thing had entirely nothing to do with the next, and my now-4 careers absolutely would not blend. it is also important to note, that again, that feeling was just my ego. or I never would have kept facing it then jumping. and so I moved through that awful feeling of giving birth to myself (again) and dealt with the same push-back I always had from others who told me "I thought you were an actress, though?". sure, I was an actress. I was also a hamburger-flipper. and a waitress. and an account executive. and…a person. I just chose to surrender to all that I was inside, because THAT was my calling. again, I didn't consciously want to be made "this" way. but we are how and who we are, and it is all for a REASON…and it doesn't matter what the path "looks" like. I then realized that YES OF COURSE, my career in corporate AND my career in tv and film in front of and behind the camera OBVIOUSLY line up with everything I did with Healing Elaine®! because without HE™, I would have no message. and without a message, all of my work with corporate and tv and film would mean…nothing to me as far as my bigger purpose was concerned.
I've mentioned that The Alchemist is my favorite book. it's a lot of people's favorite book, probably. and it is a genius book that I read in 2005 and again this year (and wrote a little instagram post about) — at which point it took on an entirely new meaning. and the point of the book is similar to the long-winded point I am making here: everything that you desire, from the perspective of integrity and ego death and learning, is preparing you for what you will become/already are. who you are is timeless, and it doesn't matter WHAT that looks like on the surface. we never know God's exact strategy in a timeline form, and it is not up to us to decipher. exerting that kind of control and demand onto the Universe is not the best way to go, and that is why so many people suffer. I've suffered in this way, during my transitions between one "career" and the next. and when I look back on EVERYTHING that I have done, it is ALL CONNECTED. had I listened to what anyone else had to say about my path, I wouldn't be here. I would be stuck. and so it was worth all of the horrible feelings I had to contend with during my "leaps". during the times that close friends, best friends, even, shamed me for my choices because they didn't understand. the times that no one would support me or lend a hand because they said I was "irresponsible". all of the horrible parts of my transitions were worth it. and so are yours…
you may be thinking "Elaine, I've been at the same job for 20 years, I can't relate to anything you are saying"…well, sure you can. think about the last 20 years. time is IRRELEVANT here. what IS relevant, is where it has lead you. it has lead you somewhere. perhaps that somewhere is a conclusion. perhaps it is the understanding that you are very content and therefore exactly where your soul wants you to be. and if you are not happy, it has lead you to understanding that, so that you may LEAP and ONLY THEN understand the last 20 years of your life! it is really all simple, and perfect. and the point is, you can't get it wrong!
make an outline of your life. all of the choices, jobs, and relationships. write them down. connect the earlier parts to the present tense parts, and then imagine that all of that is leading to something that you can not yet see, because you didn't yet leap in some way (unconsciously). leaping does not have to mean leaving a job or making a tangible change. leaping can simply be a state of mind, a willingness to admit ego defeat, or something else within the confines of your mind. that leap, which is a surrender and realization, maps out your next steps. how magnificent is that? and if you are honest with yourself, you will understand it all. if you are not honest with yourself, you will remain confused. honesty or lack thereof produces karma. there is no way around that. and in either case, we are exactly where we are destined to be. let go of guilt.
I think of the deep, isolating feelings of personal death around my "identity" and how long some of those periods lasted. I wrote an article about these periods here — it's long and worth a read. if you are confused about what "it" is, that is your long-winded transition, I also wrote about destiny and stagnation here. I imagine that all of us have (these) periods, during which we self-question. and what I want to share and convey is the fact that you can't get "it" wrong. stop comparing your life to anyone else's. NONE OF IT MATTERS. you probably would NEVER trade the relative facts anyhow, to be in "someone else's shoes"! understanding that there is no external choice you can make that will alter your reality is important – it always has to be contended with on the inner level, and thoroughly, first, to count. if you are in your 20s and you wonder "what you are doing", know that if you honor yourself, it remains to be seen. if you are in your 60s and you wonder "what have I done", know that if you honor yourself now, it remains to be revealed and you will have peace. you can't make a wrong decision in life, no matter what your life has looked life. yesterday already happened, and tomorrow doesn't exist. really think about that concept.
find a way to work with both your inner and outer realities, and find common ground between the two. everything that you are doing (outer) and going through (inner) now is preparing you for where you want to be, whether you are 20 or 80.